Kia Ora!
I am on a MISSION to have te reo Māori spoken in every classroom in Aotearoa.
This pae tukutuku (website) is to tautoko those many kaiako who are both teaching and learning te reo (at the same time).
The rauemi (resources) support Te Aho Arataki Marau mō te Ako i Te Reo Māori-Kura Auraki (Curriculum Guidelines for Teaching and Learning Te Reo Māori in English-medium Schools).
Mauriora!
Michele
Te Reo Māori classroom resources for any occasion



Matariki Magnets-Te Iwa o Matariki
0sharesFacebookPinterestThese beautiful Matariki fridge magnets will delight young and old. This set of 9 are bold and beautiful and will help you and your tamariki learn the names and meanings of each whetū. These were part of the Matariki celebration …
Read More
not rated
$

29.95





Ngā Tae (Colours) Boom Cards
1sharesFacebookPinterest1Begin with single colours and move to making colour sentences in te reo Māori. This awesome Boom deck has all of the sound bites needed to help with pronunciation of colours. No need to print and laminate; all you need …
Read More
not rated
$

8.00

Te Huarere (The Weather) Boom Cards – 2
1sharesFacebookPinterest1Learn some Māori weather words and sentences with this Boom deck of interactive cards! No need to print and laminate; all you need is a laptop and/or a mobile device and internet connection, and you're good to go! Complete various …
Read More
not rated
$

6.00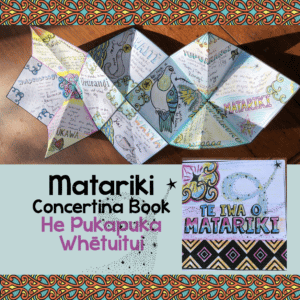 Matariki Concertina Book * He Pukapuka Whētuitui*
13sharesFacebook5Pinterest8Te Iwa o Matariki Firstly, this Matariki foldable/concertina book will delight any age. It is a perfect way to display facts, illustrations, and pictures about Matariki. There are 4 task cards on each of the nine whetū. Each have significant …
Read More
not rated
$

6.50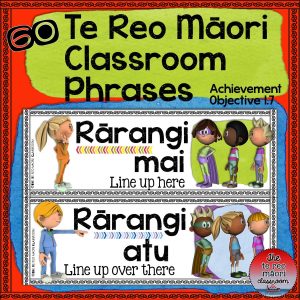 Te Reo Māori: Classroom Phrases
Are you looking for an easy way to integrate more te reo Māori in your classroom?
This resource has 60 plus phrases (rerenga kupu) and words (kupu) to help you with more te reo on a daily basis.
The format is the same as the Te Reo Classroom Timetable so it fits in well if you are a selective decor person!
not rated
$

11.50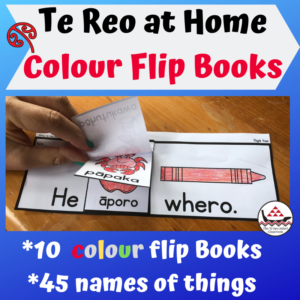 Te Reo at Home-Colour Flip Books
13sharesFacebook1Pinterest12These te reo printables feature 10 colours for your tamariki to learn. Following that they will be able to read sentences describing the colour of something! This will fast track their reo. Download the resource now – or, join Te …
Read More
not rated
$

5.00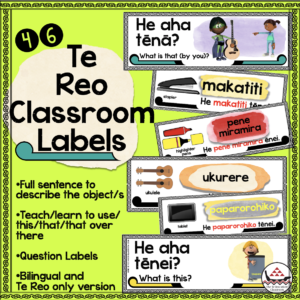 46 Te Reo CLASSROOM LABELS (with sentences)
23sharesFacebook13Pinterest10These te reo classroom label printables are simple te reo phrases. They are awesome for a number of reasons. You and your learners can use not only the Māori word for the object, but also to put the word in …
Read More
not rated
$

12.50

Matariki Bingo
46sharesFacebook38Pinterest8This Bingo "Pingo" game is for parents, teachers, and ākonga to use. This bingo card game is for everyone to enjoy, young and old, in celebration of Matariki. Download the resource now – or, join Te Reo Club and have …
Read More
$

12.00

Māori Art-How to Draw Poupou (in a few simple steps)
170sharesFacebookPinterest170You will be amazed at the Māori art your learners produce from following these easy steps.Your budding artists will be proud of the stunning results. Download the resource now – or, join Te Reo Club and have unlimited access to …
Read More
$

15.00

Te Reo Maori Interactive Folder
36sharesFacebook7Pinterest29These te reo Maori interactive folder printables are made for the Homeschool, Pre-school and Primary school. There is so much fun to be had using these with your learner (and yourself). Download the resource now – or, join Te Reo …
Read More
not rated
$

15.00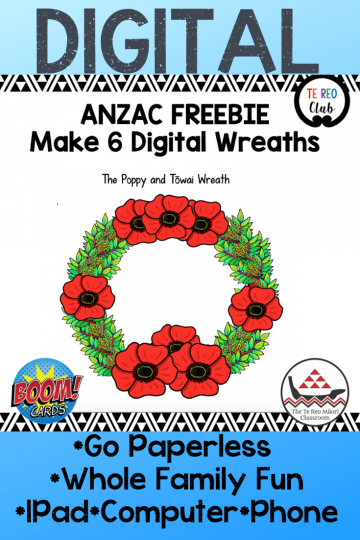 1sharesFacebookPinterest1Hundreds of thousands of educators, all over the world, have had to quickly adapt to providing distance learning for their learners. The challenge has been to find a platform where learners can work independently, have fun learning, is easy to … Read More