Kia Ora!
I am on a MISSION to have te reo Māori spoken in every classroom in Aotearoa.
This pae tukutuku (website) is to tautoko those many kaiako who are both teaching and learning te reo (at the same time).
The rauemi (resources) support Te Aho Arataki Marau mō te Ako i Te Reo Māori-Kura Auraki (Curriculum Guidelines for Teaching and Learning Te Reo Māori in English-medium Schools).
Michele
Te Reo Māori classroom resources for any occasion

Whakatauki Collaborative Poster A K O
Looking for an injection of te reo for your "AKO" theme?
This wonderful whakataukī may resonate with some of your learners and get them thinking about taking "action" in their learning choices.
"The crayfish won't come to you" is a popular whakataukī in education.This tama lays on the water dreaming about crayfish. If he had the skills perhaps he could go and catch those crays!
Whāia te mātauranga- pursue knowledge/skills.

Collaborative posters are FUN!
not rated
$

10.50


Our New Zealand Jesse Tree
You can now incorporate te reo Māori and a New Zealand theme with this Jesse tree. The Aotearoa theme will be a beautiful addition to your bi-cultural classroom. The traditional Jesse Tree traces the people in Jesus' family tree or …
Read More
not rated
$

20.00

Our New Zealand Native Birds Kōrero Māori
Talking birds? Your learners will LOVE these talking bilingual manu who will tell you their name! Firstly this resource has a spectacular 1m x1m Pōhutukawa tree for our manu Māori to perch on and under. Added to that these friendly …
Read More
not rated
$

15.00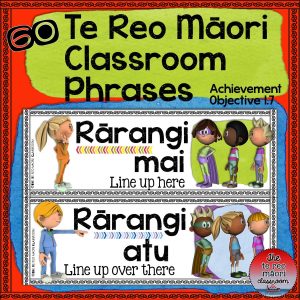 Te Reo Māori: Classroom Phrases
Are you looking for an easy way to integrate more te reo Māori in your classroom?
This resource has 60 plus phrases (rerenga kupu) and words (kupu) to help you with more te reo on a daily basis.
The format is the same as the Te Reo Classroom Timetable so it fits in well if you are a selective decor person!
not rated
$

11.50

Ngā Atua Māori-The Māori Gods Collaborative Poster
Papatūānuku and Ranginui are the ancient parents who the Māori Gods whakapapa to. If you have introduced these as part as your kaitiakitanga or sustainability topics your learners will love this activity to tie it all together. Ākonga will love "owning" their one piece of …
Read More
not rated
$

10.50


Kōwhaiwhai Headers and Footers
Decorate your posters and labels with these beautiful kōwhaiwhai. The black and white version will be great for worksheets. Learners will love to colour these after completing their mahi. These are original designs! Be unique in your bi-cultural classroom, or …
Read More
not rated
$

8.00

Koru Speech Bubbles
Speech bubbles are so handy. These  New Zealand themed koru call outs will add a bi-cultural āhuatanga to your akomanga. These can be laminated and written on. Also, they can be a question and reply set using 2 different colours. …
Read More
not rated
$

8.00

Te Reo Māori: Feelings-Ngā Kare ā- Roto
Are you looking for a te reo Māori resource on Feelings, Ngā kare ā-roto with some awesome visuals?
Do you want to take your learners from asking "How are you?" to "How is she/he?"
Do you want to include kīwaha and every day conversational reo in your program?
If so, this rauemi is for you and your learners! The expressive characters will help with the identifying and understanding of the feelings/emotions kupu.
not rated
$

8.50