Number recognition and knowing how to count are an essential stage in a child's learning. It sets building blocks for the rest of his/her entire learning journey. From answering questions such as "How old are you?" to grown-up matters such as managing money, knowing how to count is an indispensable skill a child must acquire as early as possible. Our unique point is that we will also be teaching numbers in te reo Māori.

Are you wondering why I would be putting up a blog post about pāngarau (maths) when school is due to finish for the year?
Two reasons-
Learning is everyday!
If you want to encourage learning te reo you can be a great example to your tamariki-ia rā ia rā (everyday) by encouraging home learning.
Your tamariki may need a break from sun and screen time, during the holidays.
It's well known that when school begins tamariki can be a bit "rusty"after a break (when other learning and experiences have taken place.)
One-on-one opportunities will expedite learning, and sadly most schools are not well resourced with a variety of te reo maths resources.
NZ Maths has a helpful website and video to give you some ideas on how to support maths in the home. It can be viewed in te reo also. This is a good practice if you are learning te reo. Watch it in English first and then te reo. Pāngarau i te kainga.
Te Reo Māths Resources
In this resource – Te Reo Māori Number Flip Book –  is visually appealing and also allows for interactivity. It contains flip books which children can enjoy assembling with their caregivers, tuakana or kaiako. Tamariki enjoy the "flip" nature of the booklet-constructing it as well as the number activities. All of these things-cutting, colouring, pasting and assembling are part of the learning process. It's not just learning the numbers.

Each printable is actually divided into two panels: the left panel is for the base of the flip book and contains a traceable numeral and the māori word for the number. Furthermore, the right panel contains the mini-pages which can be cut out and put together and can be flipped one by one. Before cutting out the sections, it is best for the children to trace the numbers and words and colour the pictures of the fruit; the numerals and the words have arrows and numbers in them which serve as the child's guide where to begin and end in tracing. This makes the resource more personalized and also encourages the children to develop their fine motor skills through writing and colouring.Te Reo number Flip Book Resource here.
Number Recognition
Now, you may be wondering why there are a lot of pictures representing only one number. The reason is simple: in the real world, numbers exist everywhere. Therefore, a child should be exposed to as many representations of a number as possible. We will discuss each representation in more detail.
Tens Frames
The first is the tens frames. For instance, the illustration below is the tens frames for number four (4). This representation makes the tamaiti aware of the place of an object in groups of ten. It basically says that in a frame for ten, only one is occupied and the rest are empty. This makes the tamariki  aware of positive and negative spaces and also of the concept of being full, part-filled, and empty.

Hand Counting
The second one is the hand count. Simply enough, this aids the tamariki to be aware that they can count using their hands and guides them with the proper way to do so. As you can see, it illustrates how the hands would count with the palm facing them.
There are many views on which hands to demonstrate. I tend to go with the whakaaro that a variation is good. Have you watched tamariki trying to count fingers, holding some up and some down? It varies from one to the next.
Tally Marks
The third one is the tally marks. This helps the tamariki to close counting in groups of five.  These are used in situations such as keeping scores in a game especially if it is ongoing and must be monitored from time to time. It sets the tamariki up for skip counting in 5. Rima, tekau, tekau mā rima, rua tekau….
Number Pictures
The last one is the actual picture. This is important so that children may know how to use words in stating the number of objects in full sentences. For instance, you may rask "E hia ngā āporo?". Tamariki will reply "E whā ngā āporo" (There are four apples) once they flip the page for it. For this resource, I used the fruit since I also have another resource which helps children learn about Hua rākau and this is just another way of reinforcing the reo. If you wish, you can cut the extra blank flip pages at the end of the resource, have the children draw objects they love in corresponding numbers, and pile them on top of the given flip pages.In addition the tāniko border gives a nice Aotearoa graphic addition to the cover. Do you know what taniko is? Have a look at this Taniko Pinterest board.
Moreover, the cheat sheet included in the resource  will help you identify which fruit are being counted in respective flip pages.
Anchor Charts
These are a reference chart for tamariki to count the number in a variety of ways. I have chosen to make these NZ themed as nothing our classrooms should be a visual reflection of Aotearoa. From Maths equipment and resources to wall charts reading books and signage. Also, these have a written phrase in te reo so that the tamariki can learn a maths sentence in te reo.

As I did with my colour charts, I have put these in a book so they can become a great reference for tamariki.
The  Maths Anchor Charts are available in the store.
Our Number Matching Jigsaw puzzles and Number Matching puzzles all feature the same New Zealand themes that are in the Anchor Charts. As well as counting there are new kupu to learn!


This is just the first of several flip books coming up. As always, the pacing will always depend on how well you know your children and students' progress. I hope you find this resource challenging and interactive at the same time. These resources will "normalise" te reo numbers in the resources tamariki are exposed to. We know for sure in mainstream schools there are literally hundreds of maths resources with English numbers.
We are exposed to numbers all throughout the day! There are plenty of opportunities to be using numbers in te reo.
Tamariki (and you) can practice with this. Repetitive, but effective. Practice counting to 100 with this- He Reo Tupu He Reo Ora.
You may like to make your own shop on a rainy day with some awesome fake money? Here are some useful phrases from He Reo tupu He Reo Ora.
My freebie has not a lot to do with these products. Although, it is counting and number recognition.It's fun. For adults too.  Use a hole punch to strengthen motor skills to practice counting . Have your tamaiti punch the corresponding number of holes on the slip of paper. It is great for practicing with numbers. Furthermore it is great for fine motor co-ordination. This from Wikipedia-
Fine motor skill (or dexterity) is the coordination of small muscles, in movements—usually involving the synchronization of hands and fingers—with the eyes. The complex levels of manual dexterity that humans exhibit can be attributed to and demonstrated in tasks controlled by the nervous system. Fine motor skills aid in the growth of intelligence and develop continuously throughout the stages of human development.
Punch away…..
So there you have it reo, fun and human development 🙂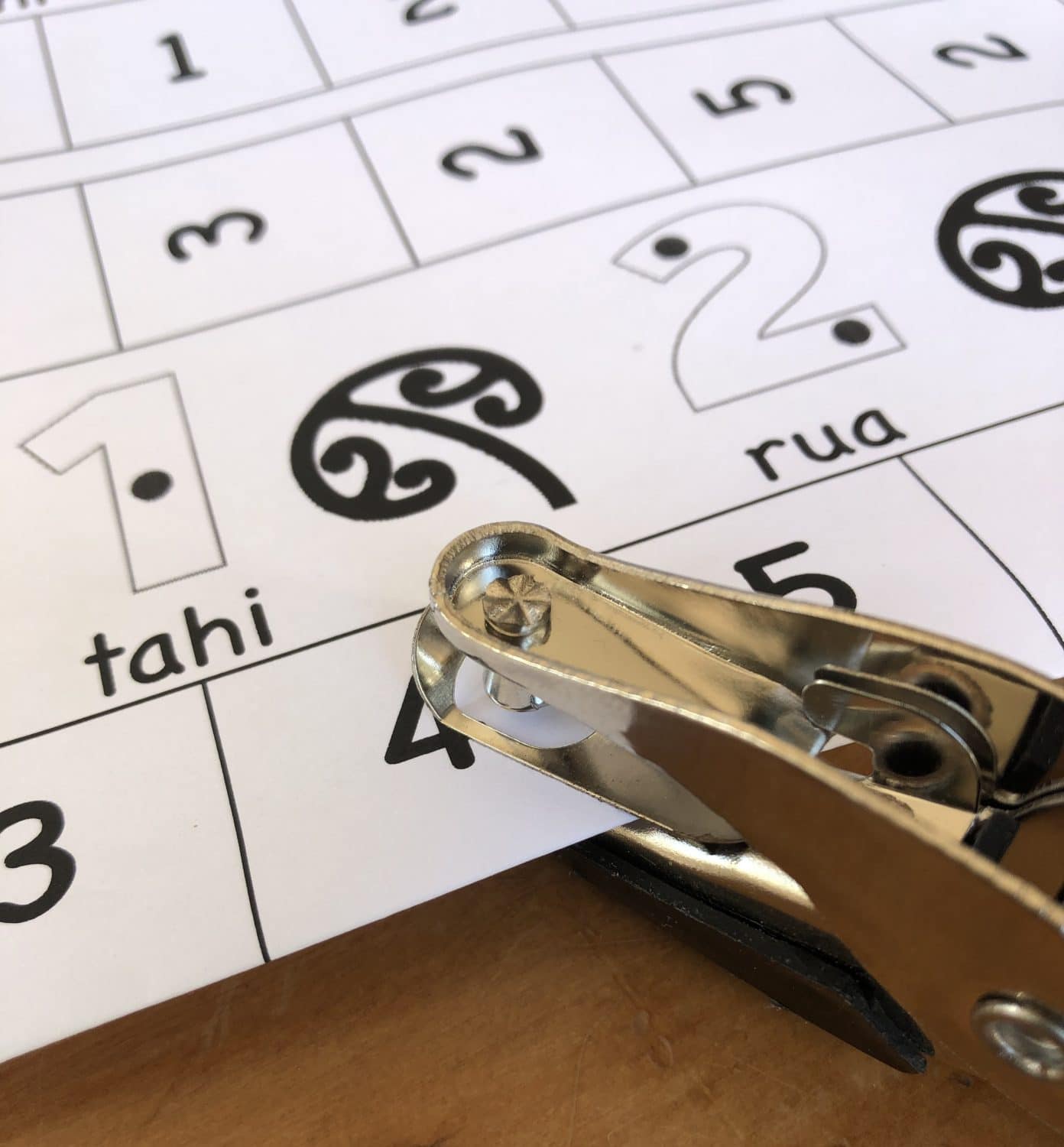 Try this out with your tamariki-there are blank sheets for your tamariki to write the numbers in for you to then have a go at punching!
If you would like to download the te reo FREEBIE number punch worksheet fill in the form below.