Enjoy this Matariki freebie in your home, office or classroom. I have many Matariki resources for you to use in your learning space to delight and engage your ākonga.

Firstly, are you looking for new activities and resources to acquire deeper understandings of Matariki? There is so much information available now and with some creativity there is no need to have to resort to just colouring in a bunch of gold stars.
Last  Matariki I worked with kaiako and we work-shopped some fun activities to deepen our knowledge  of recent findings by Māori astronomy experts (Tōhunga kōkōrangi) around Matariki.
There are various Matariki stories and Rangi Matamua mentions in his awesome book the stories we have come to use as reliable pūrākau. However, many of these stories have been "borrowed" from Greek myths and do not have Māori origins or understandings.
Recently there has been a resurgence in Māori astronomy. This makes it possible to  access  Māori information around the stars and their meanings. Astronomy was woven into so many aspects of Māori life and was indeed part of every season and played a big part in survival.
Ngā Whetū o Matariki
The Matariki whetū were the original cluster of stars that Māori used to navigate. They were seen as tohu for how the year was going to pan out.
Did you know that each of these stars have a domain that they connect to?
Rehua and Matariki are the parents who produced the whetū in this cluster and each has its own purpose and meaning.
Waipunarangi (female)-The rain.
Waitī (female)-Streams, fresh water and the creatures within.
Waitā (male)-Te moana, the sea, and the many foods gathered from it.
Tupuārangi (male)-Kai from above. Birds and berries.
Tupuānuku (female)-Kai from below. Food grown in the earth.
Ururangi (male)-The wind.
Pōhutukawa (female)-Remembering those who have passed on.
Hiwa-i-te-rangi (female)-Wishing star.
Activities for Matariki
I like to think of Matariki as "Te Wiki o Te Reo Māori" times 4. This is such a PERFECT time to integrate curriculum topics such as Rangi and Papa,  weather, solar system, kai, mahi tahi (collaboration), gardening, goal setting and pūrākau (stories) .
A variety of multiple intelligences activities can be used. Drama, making music, waiata, writing, reading to name a few.
Wondering about where to start when introducing Matariki?
Beginning with pūrākau is always a perfect "hook".
This resource begins with the story of Tāwhirimātea and how his eyes came to be the stars of Matariki. Hence the name "Ngā Mata o te Ariki Tāwhirimātea." "The Eyes of the God Tāwhirimātea "or Mata ariki.
The story comes with beautiful colourful illustrations and a black and white version, so your learners can re-write their own stories. You could also make a sequence story or a class collaborative pūrākau (story).
One bonus of this resource are the magnetic pictures included.

These can be cut out, magnets placed on the backs and your learners can interact with them making up their own versions or retelling the story. At the workshop each rōpū had part of the story to retell and then we put them all together. This is a great activity to be added to your reading or language choices. You or your learners could add dialogue-fill in speech bubbles or act out the scenes. You could add different backgrounds and drawings, take photos and add to seesaw. This is a good opportunity to add kīwaha or kupu Māori as part of the conversations between characters.

Now it's time to talk about each star and its domain. This resource has 9 posters of each of the whetū with pictures as prompts to remember their domains.
This can help you come up with more activities or Inquiry.
For example you could talk about Waitī and Waitā in a conversation or activities around the water cycle. "Wai" means water. Or how about making
shaving cream clouds
as an experiment on how clouds form, or evaporation experiments. Get creative!
Ngā Mata o te Ariki o Tāwhirimātea-Matariki

The collaborative poster "Ngā Mata o te Ariki Tāwhirimātea" is wicked! It fits in nicely with the Matariki collaborative (same size) and we had heaps of fun working with each other to get the right colours. This has 25 pieces and would be awesome for teachers or whānau to complete too.
If you wanted to talk about Ururangi and how like
Tāwhirimātea
, he influences the wind you could use this template included in the resource or make your own manu aute, manu tukutuku or manu kāhu (kites).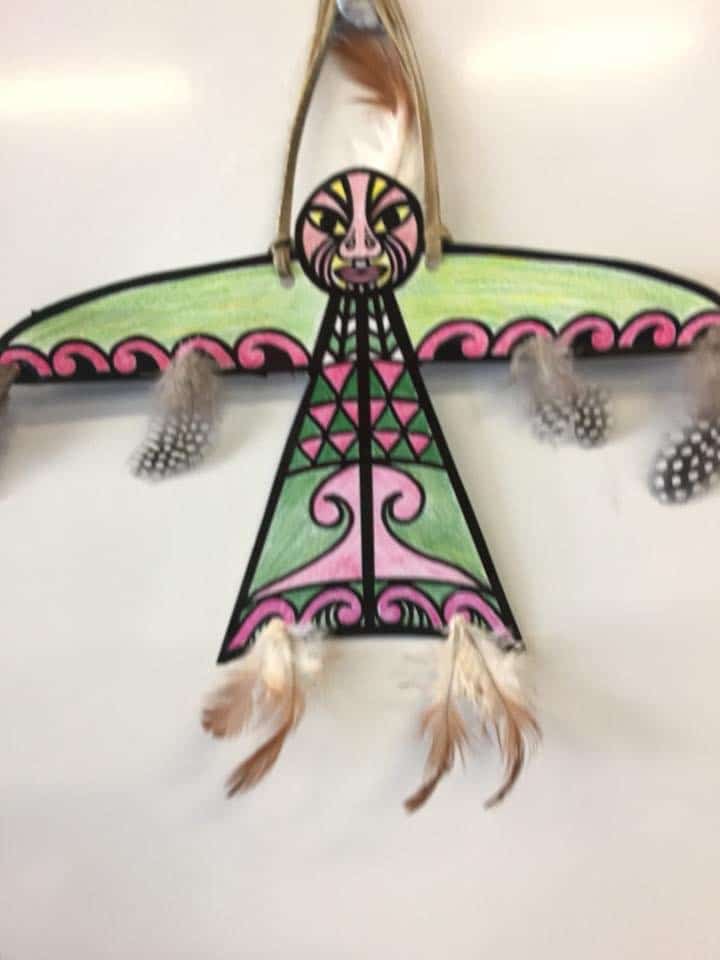 As well as all of this there are the popular star ball decoration. These have wonderful Aotearoa style illustrations. Tirama tirama, the te reo version of twinkle twinkle is also included for a sing along.

The star balls are one per A4 sized paper. I think they would be a good activity for a small group-each responsible for one of the whetū.
This is definitely a great addition to your Matariki kete mātauranga!
If you are looking for an awesome Matariki resource I can recommend this one!

Matariki Playing Cards
For those of you who are serious about using Matariki as an excellent opportunity to get some language happening-this is a great resource.
With the playing cards you can re-tell the story and play a game of Memory or Fish. They are available here.
This gives an opportunity for learners to extend their reo from words to sentences.

MATARIKI Collaborative Poster
A kaiako used the collaborative with her ākonga without telling them what it was about.
On completion they were told that these were all symbols for the various whetū (symbols explanation included).
They discussed the importance of each one for health and sustainability. In addition  they talked about how the appearance of the whetū showed the abundance of the
I thought that was a great way to introduce Matariki. As you can see there is no shortage of collaborative posters . Here is the Matariki Collaborative.


Matariki Bingo
This has been a very popular activity.
It's great way to introduce the topic as well as reinforce information about Matariki. Bingo or Pingo can be played
with a small group or the whole class.

Te Reo Māori Solar System Collaboratives
While we are looking up trying to find Matariki we are looking into that space that many learners are very interested in. The Solar System.
This resource has collaborative posters on each of the planets. There are 4 pieces so work can be completed as a team or individually. There are also smaller A4 sheets for individual mahi. This includes the Māori names for each planet. Furthermore, it explains the days of the week and their relationship to the particular planet. The Space Centre has some great information.
Older learners may like these Matariki whakataukī. They would be great coupled with the Matariki Concertina Book.

Take a peek at the Solar System Collaborative  resource with te reo planet names.
Tamanuiterā
The Sun cannot be left out! Speaking of pūrākau this is an awesome relevant time to read  "Māui and the Sun".

The big guy can be purchased here-Māui and the Sun Collaborative.
Rona and the Moon
Everyone enjoys the story of Rona and the Moon and the warning it gives us. "Ko te hē o Rona".
Actions and words have a consequence.
Collaborative posters are ALWAYS fun and the finished product gives all participants a sense of achievement.
Don't forget the waiata! I love this version  sung by Huitau Te Hau and Garry Crawford on top of Otatara Pa during the Supermoon of November 2016. Rona and the Moon.

It will be a great addition to this Ready to Read downloadable story of Rona and the Moon.
But that's not all. Watch this cool clip of this Rona and the Moon shadow play. Could you try this with the Ngā Mata o te Ariki Tāwhirimātea,  picture cut outs?
Some super cool mahi from Kaleb and his mum. (I have a feeling mum is pretty talented too).
Matariki Art-Poupou

You've looked at poupou before and wondered how the tamariki can do such a good job. You aren't an art teacher and you wouldn't know where to start. Right?
This is a SIMPLE lesson. It has a scaffolded template to "hand hold" you, all the way along.
Here is some feedback
The whole school was amazed at how my year 1s had created such awesome artwork. We used Gavin bishops Rangi and Papa to learn about the Maori gods, then drew practise poupou using the guidelines. We then used our own creativity to draw the poupou representing the Maori gods by holding different things and making colour choices. At assembly the kids enjoyed sharing their art and saying the names of the gods. Thank you for this.
The resource comes posters of the nine pou (Matariki stars). Through the process of looking at the symbols, it will help learners
understand the meaning of the whetū
understand poupou and how they convey information
find symbols to represent themselves (books, musical instruments-what do they like, or are they good at?)
This popular resource is available here-Matariki Māori Art.
Te Iwa o Matariki
I and many learners love drawing, doodling and making books.
 With many activities going on its nice to have one that your ākonga can return to at various times during the week.
This activity is great for those who would like to illustrate and or write. There is enough room to write information from the task cards included, or from research (rangahau). Whakataukī, kīwaha, and illustrations will add heaps of interest to this pukapuka whētuitui-concertina book. Personally myself and my whānau have enjoyed making these at home. They really are rewarding. Matariki is a time to give and what a beautiful koha this would make.
It's available here.

Ngā mihi ki a kōrua Hannah rāua ko Kim 🙂 Thanks for letting me use your room as a display for these flags.
Phew, kua pau te hau!
Matariki Banner Freebie

 Just subscribe below for the freebie.
(You can unsubscribe as soon as you have downloaded.)
It matches the
Te Wiki o Te Reo Māori.
(For those of you who like matching decor).
 Matariki Freebie  Pukapuka
I almost forgot. This Matariki book was resurrected from the depths of my rorohiko.
It was made a couple of years ago and was popular. Also, we were asked to make a recording for kaiako who weren't sure of the pronunciation.
Your learners will find this a great help.
Lastly, this Matariki pukapuka was enlarged to A4 so that it could be read to the class. It is available as an A3.

I was lucky enough to have some muka (flax cord) to tie my book up with.  After tying it I put a couple of card stars at the end to decorate. This would be a great koha.
All translations are in the teacher's notes.
Te Kāhui Whetū o Matariki
The Constellation Matariki
This can be used as a read-a-long, a book for your learners to take home, a group reading activity. Older ākonga could read it to their buddies. You could have a couple in your waiting room, or at the library.
If you would like this wee pukapuka fill out the form below to sign up.
Sorry about all the forms but it helps me to know what content people are wanting so I can make more: )
It does also mean that you get emails when there's a sale or some pānui that you might be interested in.
Korowai
Why not make a Korowai to celebrate your hopes or goals for the coming year?
Hiwa-i-te-rangi is our whetū to wish upon and to profess our goals for the coming year.

Here is one way of using the korowai from Springston School.
Here are some feathers for you to use to make your own. Your learners can colour them or write whakataukī, words or descriptions on them. Seriously there are so many ways to use these on you korowai.