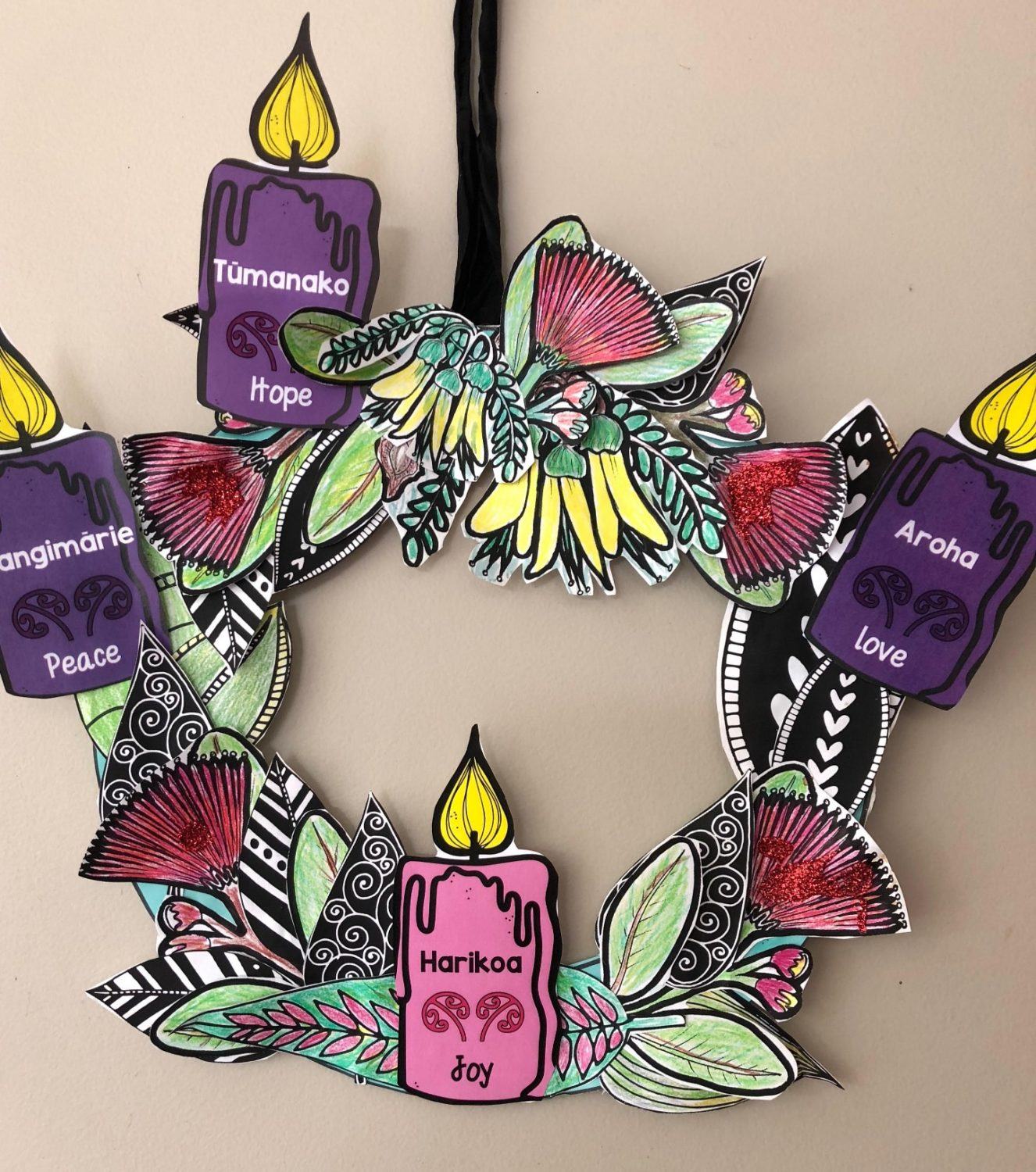 Last year I made this wreath as an end of the year activity. Several people who used it added candles to it. This year I have added them too (black and white as well as coloured). This is to celebrate Advent. The freebie is below, but read on first as there are some cute ideas for your classroom Christmas celebrations! As you can see there are a variety of choices for your wreath- pōhutukawa, leaves, kōwhai and candles to use. What a great gift for someone-and the lovely wishes of Aroha (Love) Tūmanako (Hope) Harikoa (Joy) and Rangimārie (Peace).
Here are some of the products specially put together for this festive time of year. Firstly-the New Zealand Christmas Tree. The Pōhutukawa. Here is a brilliant one. This is approximately 1m x 1m and is a great back drop for any summer or beachy scene. Find it here:

Okay, so we may need some cute Christmas birds to go with that. These little guys were a huge hit last year. They have wings fastened by push pins and it makes the wing moveable. You can add messages under the wing. See them here:


Then there are a selection of other ornaments and decorations with New Zealand themes and some te reo Māori! These are big and beautiful and can also be made in to cards as a thank you. Available here:
If you are looking for cards this resource combines the native birds and Christmas cards. In the resource are messages as well as cute decoration shapes that can become "flap" cards or booklet cards.


These can be found here:
If paper chains are your thing….
I

I
I decorated my house with these last year! Paper chains were always my favourite when decorating for any occasion.These ones are here.
Jesse Tree
This year I teamed up with a friend Kate, who is the Director of Religious Studies at a Catholic School. We had both been talking about integrating more te reo Māori into Catholic resources and she came up with the idea of a New Zealand Jesse Tree (find out what a Jesse Tree is here).  It's an absolute beauty!

The ornaments have the date in te reo Māori and an explanation of how to say what the date is. The pōhutukawa is included in this resource and of course can be used again for another topic-"Ko au"-family tree and whakapapa at the beginning of the year? It can be seen here.


Have fun and create some NZ inspired seasonal cheer.
Your wreath is waiting for you here.

Ngā manaakitanga,
Michele