I have always enjoyed having labels, posters, name tags,  post its-on my classroom walls. As a first year teacher the emphasis was always on a "print rich" teaching space. Everything was labelled and I just loved it! I would label paints with each colour, crayons pencils etc in both Māori and English. This was not only for the ākonga but also as a prompt for me so I didn't revert back to English.
One of the reading choices was reading around the room and that's exactly what the learners would do! Paired reading-high up and low down with the pointer. It made every piece of wall content meaningful.
That is how I approach my resource making. If there is an opportunity to add a bit more meaning, or a few new kupu, or a relevant phrase I try to do this.
These timetable labels aren't just "labels" – many have prompts for teachers and learners to "add" a little more relevance or understanding.

An example is for te reo label-Tama Tere (Fast Boy) is introducing himself. Below him Whaea is telling her poem reader his work is "Tino pai"- hashtag very good!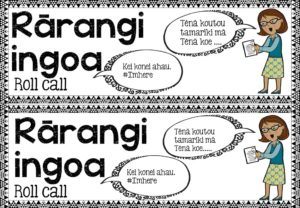 Two roll call labels- two opportunities per day for greetings practice. Could one of your learners reply "Kei konei ahau" without being prompted??
These are available as a whole school licence so all teachers in the ONE school are able to share this resource.
.
…