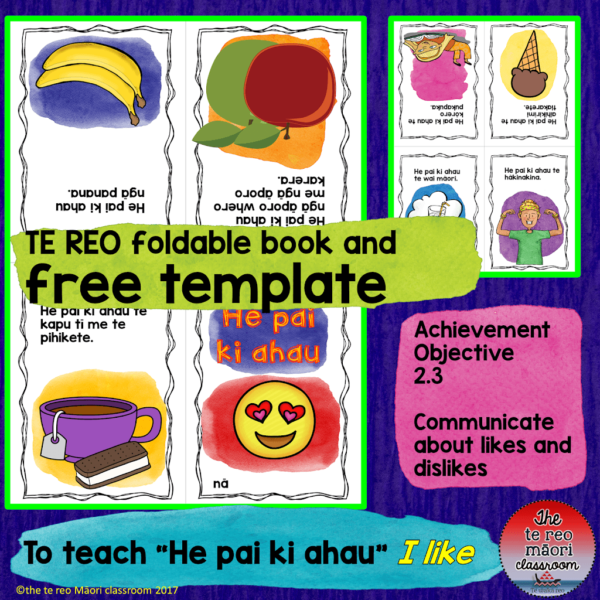 Over the next few weeks I will be posting some ways of incorporating more te reo for Te wiki o te reo Māori.
At one of the schools I've been in the librarian brought in a cool idea. "Stop, drop and kōrero."
At any time of the day the bell would signal it was time for this. Whatever you were involved in you would stop and find a book in te reo. Sometimes kaiako would swap rooms and read a legend to a different class.
A great idea but there aren't always suitable books for each learner to read.
One way to overcome this is for the tamariki to make their own books and read to each other.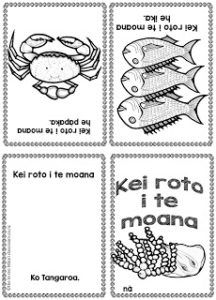 These foldable books are perfect for this task.
I have provided a free template of "He pai ki ahau…" "I like." Everyone likes to talk about their likes!
Each ākonga can name, write and illustrate  the things they like. These could be food, sports, clothing, animals etc. You could have a selection of picture dictionaries to find kupu hou.
You could also start with word building of all the likes of the ākonga and the kupu Māori could be found as an ongoing activity.
Put them all of the completed pukapuka in a box and at a designated time each ākonga selects one out of the box, reads it in Māori and finds out about someone else's likes. The illustrations will need to reflect the likes!
I'm sure this will be a great success and by the end of the week, ākonga should be very good at saying "He pai ki ahau…"
Here's Mr Five year old with his pukapuka 🙂
There are two coloured exemplars-one with translations and the other is te reo only.
If you are looking for a bit of variety here are some other foldables.
Ngā Manu-Native birds #1
Ngā Ngāngara-Insects#2
Ngā Rākau-Native trees #3
Kei Roto i te Ngahere-In the forest #4
Kei Roto i te Moana-In the sea #5
Bundle #1 New Zealand Flora and Fauna
How Are You? Kei te Pēhea Koe #6
Pets-Ngā Mōkai #7
In the Classroom-Kei Roto i te Akomanga#8
What's the Weather Like? He Aha te Āhua o te Rangi?#9
What Are You Doing? Kei te Aha Koe? #10
Bundle #2 Everyday Phrases
Let me know how you go!
Kia ora te reo D O W N L O A D  here